Thursday Evening Contra Dances
Currently in recess till safe to dance again.
Every Thursday at my house in Cass Bay
(5 minutes from Lyttelton)

Dance 7:30 to 9:30 pm
$5 (or $10 when live music)

Musicians look at the contra videos, listen to the great music. Get your act together and contact me to be a featured band. Funds collected over the month to support musicians.
Here is a flyer.
More information and directions to our house please contact Bill Baritompa.
To get email notices sign up here.
Special Dances - Live music or guest callers
15 February 2018 - The Allemande Joy contra came, they brought their tea and then a great dance with our regular dancers. Videos
1 December 2016 - Live music with Heather and Roger. A good turnout with guests Jamie and Joe from Oklahoma. We had enough to do the crossing part of Dutch Crossing!
3 November 2016 - Folkworks played brackets for us as concert items and then for us to dance to. Folkworks: Roger Buckton - director, flute, whistle, Claire Weyland - violin from Wanaka, Tess White - violin and mandolin, Francis Yapp - cello, Jonathan Le Cocq - guitar and mandolin, Heather Gladstone - accordion.
4 Feb 2016 - "Allemande Joy" touring contradance dancers, musicians and callers from the USA joined us - video playlist.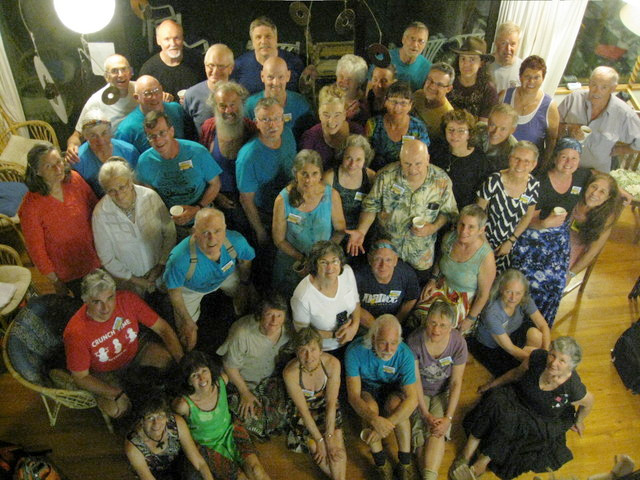 It was a full house with over 40 of us! I called some as well as Robyn Blakley - Asheville NC and Jim Robinson - Sacramento CA. Glenn Lee (Accordion, Keyboard) led a fine band consisting of Mark Hessing (Banjo, Fiddle, Guitar), Arlene Jamar (Keyboard, Accordion), Rob Lindauer (Viola), Jim Robinson (Viola, Recorder, Penny Whistle), Mary Dart (Recorder, Accordion), Dick Ginns (Mouth Harps), Betsy Foote (Fiddle), Thomas Gebhardt (Percussion), Vicki Morrison (Mandolin), Michael Hamrick (Fiddle) and Steve Ketaltas (Guitar).
5 November 2015 - Christa Torrens a caller and dancer from Colorado and was able to come to our dance on her way to Antarctica to research fresh water ecology there. She called a couple of dances for us: Mirror, Mirror by Jim Kitch and a nice version of Cheat Lake Twirl by Perry Safran.
24 September 2015 - Live Music! Strawberry Town Hooligans - Klezmer tunes and more
20 August 2015 - Live Music! Jonathan Le Cocq and Tess White duo played a fine selection of Irish tunes
12 February 2015 - Caller Dave Bateman and dancer Barbara Williams from New Hampshire. Dave is the chair of the Annual Ralph Page Dance Legacy Weekend in Durham NH.
21, 22 January 2015 - Sally Rogers and Howie Bursen spent two days with us. We had a musical pot luck evening on Wednesday and a small dance on Thursday.
4 December 2014 - Gary and Maggie from Melbourne played and called dances for us - Video. Gary runs a monthly dance.
30 October 2014 - Visitors from Atlanta, Georgia. George and Peggy Snyder from Chattahoochee Country Dancers. George is a caller and taught us a few dances. Rob called some new dances for us too. Video
23 October 2014 - Live Music with Claire, Heather and George. We farewell Claire as she goes to run the New York marathon and then moves to Wanaka. Musical Fun
2 October 2014 - Live Music with Bernard Wells from Chili Jam and Geoff and George.
11 September 2014 - Live Music by Scotch Measure: Alan, Clare (keyboards), Helen (drums), Jill (fiddle), Margo (mandoline). Video
31 July 2014 - Aleksandra Taranov together with Geoff, George, Jill and Margo played for us. Aleks is a young fiddler from Princeton, New Jersey and winner of the 2013 Dale Award. After training at fiddle camps with renowned fiddlers such as Alasdair Fraser, Jay Ungar, and Bruce Molsky, she has now made a debut around the United States with her band Big Chaos. Known for an energetic sound and a swinginess to her playing, she's sure to bring you to your feet.
1 May 2014 Sandy Brechin played for us and Gary King from Melbourne called a few. Sandy and Heather played a bit after the dance.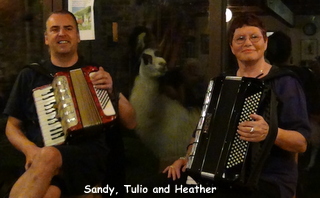 17 October 2013 - Special Dance with guest caller Sue Koger from USA. Music by Heather and Claire.
3 October 2013 - The Thursday dance was moved to Lyttelton as part of the Lyttelton Kura - Festival of Learning. Sixteen regular Thursday dancers came as well as 9 as part of the Kura making for a fun Introduction to Contra evening.
11 April 2013 - Roger and Heather provided music for thirteen of us to dance. We had a bit of a party as farewell before Liz and I went off on the contra dance trip to the the US.
20 December 2012. Our final dance of the year. George provided percussion - Let's Celebrate the Day and Anderson Ferry Reel were two dances we did.
On 8 November 2012, we had a multi nationalitiy event. Japanese, Spanish, German and Kiwi. We had live African drumming to accompany recorded music - Black Cat Mixer.
On 1 November 2012 to help welcome our son Colin and his wife Laura, Duilleoga (Jonathan on guitar and mandolin, Kat on violin, Eilis on flute, and Paddy on guitar, percussion, banjo and voice) played for us.
On 20 September 2012, we had a great evening dancing to the music of Heather and Claire. Two of the dances we did were Heartbeat Contra and Sleepless at Pinewoods.
Background
The Saturday monthly dances at Addington School have been going since 2008. A number of people are keen for more regular dancing. Before the Lyttelton recreation center was red stickered, we started some dances in Lyttelton. In cooperation with the timebank, it will be great to provide something local again. The idea also is to provide some work for struggling musicians.
Here are a few videos: contra dance last year in Lyttelton and dance in our house